Incoming reviews for "Mergae Maris Profundi"
  In  my  opinion  this  is  another  great  sounding  recording  from  Tine  and  if  you  are  a  fan  of  symphonic  black  and  death  metal,  you  should  check  out  this  album.  RECOMMENDED  TRACKS  INCLUDE  "From  The  Deep  Ir  beckons..."  "A  Cetacean  Dirge"  and  "The  Kracken's  Lament".  8  out  of  10.
-A Different shade of black metal zine, november 16th, 2021
When I was first setting out in my mission with this website to explore metal as I knew at a pace that feels both sluggish but immensely quick, I wasn't first into the more extreme ends of what the style had to offer with black metal, in particular, being a bit of a barrier for me which is hilarious to me in hindsight but that's how it was. There weren't very many acts that could penetrate that veil in order to really open the doors and allow me to explore all that the style has in store like I love to do today and it was Tine that I specifically remember as one of the acts that tore down that wall for me. With subtle but wild use of symphonic elements and wonderful melody, it was Tine's debut that captured my attention and respect right from the beginning and it's now seven years later that I can look upon the act's follow-up with a completely new mindset and it really does feel like I've been shot through time. 
It's the clear nautical theme that seems all but obvious before you're even to set foot inside any of what this sophomore full-length has to offer with the cover art firmly planting that vision into the listener's brain, but there's much more inside "Mergae Maris Profundi" other than aquatic black metal with symphonies colorful enough to be compared to coral reefs despite that taking up a substantial chunk of these eight tracks. With all the personality that's infused into each of these tracks as well, I would dare anybody who would dive into the foreboding depths of Tine's newest creation to resurface and find themselves not latching onto at least a single song in the whole of the record for it's throughout each offering that Tine never once dips in its quality or explorative nature while still keeping a firm grip on its symphonic black metal center that it's had a tremendous understanding of since the band's formation with every minute of this new effort really showing us not only the act's further understanding of how to pull it off, but just how entrancing it can be even if it doesn't take center stage or shoved down the throat of the listener such that all subtlety is thrown out the window. That quickly allows "Mergae Maris Profundi" to feel like the natural progression of the album that came seven years before it while still showing us that Tine is not about to completely uproot its sound in order to stay relevant, interesting, or reel in new listeners. Rather, Tine has planted its feet even more firmly into the ground with such dedication that it really shows off how far Tine is taking its craft in order to achieve the vision that is has with the results being downright delicious to say the very least. 
I described at the beginning that diving into this record felt like I traveled back in time, and I truly do mean that as it's listening to Tine's specific vision with fresh ears again is a euphoria that I remember very fondly with everything brought to the table in this effort bringing back all of those memories to dramatic effect as every single bar has been raised, the executions no less than spectacular, and the metal being all but deliciously varied in all of its different forms. Tine has really done a bang-up job with all that "Mergae Maris Profundi" from just about every angle, and it's a swim that I know damn well I will be gladly taking over and over again, and I truly do hope to see some of you on future dives.
Vinter D of Head-Banger Reviews
Press Reviews for the Debut Album, "The Forest Dreams of Black"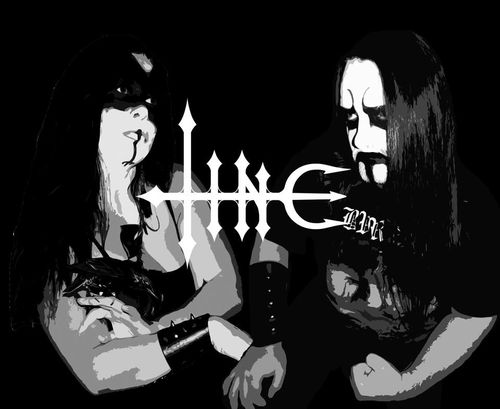 "The Forest Dreams Of Black is solid symphonic black metal with a heavy death metal element to it. The guitar work on this disc veers from a fairly dark groove coupled with dramatic keyboard swells, into the super-high-speed buzzsaw riffs that seem to echo across their musical forest. The vocal work of Count Murmur favors the death metal realm with a low growl and roar and the occasional high — which tend to make Tine feel like an ambitious symphonic death project were it not for the favoring of light speed blasting and long, intricate songs that delve into the ritualistic." 
- Islander, NOCLEANSINGING.COM (Sep 14, 2015)
" Stretching out to almost an hour long, this album is very interesting in every sense of the term as each track is its own little adventure with this two-man band. One such example is one track, "The Crusade of Dracul" (which is my favorite), being about Vlad the Impaler (the inspiration for Dracula) and his life as a king. The vocals are very harsh as they switch between being more like death metal and black metal type vocals, and sometimes he combines them to create a truly intense sound that fits perfectly with the monstrous feel of the guitars and drums that are always fast and are nothing but good. This is also Tine's debut, mind you, and a damn good one at that. If this is what just these two guys can whip up with guitars, keyboards, bass, and drums then I don't know what they could possibly create with a sophomore effort. Only more awesomeness if I had to guess. " 
- Vinter Dee, Head-banger Reviews (Sep 29, 2015)
"Tine plays a musical style that takes symphonic black metal and mixes it in with the more modern style of blackened death metal to create a style of their own, the production sounds very professional for being s elf released recording while the lyrics cover Mysticism, Occultism, Mythology, Darkness, Mystical Forest, Legends and Evil themes. In my opinion Tine are a very great sounding symphonic blackened death metal band and if you are a fan of this musical genre, you should check out this album. RECOMMENDED TRACKS INCLUDE "Horrors at Antioch" "The Crusade of Dracul" and "The Watchful Eye". 8 out of 10." 
- John Larson, A Different Shade of Black Metal Zine (Oct 12, 2015)
""The Forest Dreams of Black" is their official proclamation into the extreme metal scene. It consists of eight tracks, plus an intro, "Enter the Black Forest", that welcomes you to the rest of the album. These two ominous characters, Count Murmur and the lady Vanth, offer us their personal vision of extreme metal; an ambitious mixture of black and death, tinged with a touch of eerie symphonic tones. "Horrors at Antioch" is the track that follows the album intro, and it is the track I believe would be preferred by most. I would describe it as "The Key" by Nocturnus, however written by Limbonic Art, and performed by Aevangelist under the light of a full moon. Do I like this combination? Yes I do." 
- Francesco Scarci; Translated to English from Italian by Vanth, The Pit of the Damned (Nov 04, 2015)
"The Symphonic elements are nicely understated, making sure that they don't overpower the rest of the music. They add and enhance, rather than overtake or smother. One of my all-time favourite Atmospheric Black/Death Metal albums is Depresy's Sighting, so it's a big compliment that The Forest Dreams of Black puts me in mind of this. The music is clearly a passionate and personal affair for its creators, and this shines through in the music with a dark, poisonous light. I have really enjoyed this release. There's real feeling and atmosphere here, with an underlying emotional intensity that's hard to ignore. The two different genres both come out in the songs in different ways and the commanding vocals are full of presence, bringing everything together to a charismatic focal point. A satisfying sound that isn't too polished rounds off the impressive package and I am left with fond memories of a walk through a dark and dangerous forest, one that I'm happy to revisit again 
- Nigel Holloway, Wonderbox Metal (Nov 08, 2015)
"I will say that the blackened death dominates overall in the end, but there are plenty of symphonic elements to satiate your appetite if you're looking for some, and although this album is mind blowing it is definitely a very good start for Tine by all accounts. All but 2 tracks are well over 5 minutes long which give Tine plenty of time to showcase their versatility with long songs and really making it worth sticking around that entire time and for me they managed to pull that off pretty well. Did I mention that this is also a 2-man band? That's right. This little precious piece is made by two people who know exactly what the fuck they are doing all the way." "Their sophomore effort will without a doubt show how Tine has evolved since this album, and I can tell you right now that it will be nothing short of awesome." 
- Vinter Dee, Metal Addicts (Oct 30, 2015)
"This duo is not ashamed of their misanthropic attitude. Their songs increase in darkness and extremity, one after the other, and the result can only be a perfect blend of the sounds of old school black metal, overflowing with death metal, intergrated with chilling symphonics. "The Forest Dreams of Black" heightens with force and wickedness with each passing minute, climaxing with the epic sound of "The Crusade of Dracul", and "Herein Lies the Crooked Elm"; the paragon of Tine's songwriting. Within the contents of this album, you will encounter dark atmospheres that are reminiscent of the works of early Dimmu Borgir and Bal Sagoth, injected with death metal of the likes of Morbid Angel. Recommended 8/10" Translated from Italian to English by Vanth 
- Alberto Centenari, In Your Eyes Zine (Nov 13, 2015)
Count Murmur and Death Goddess Vanth